Rick Grant
William H. Miner Agricultural Research Institute
NDF Intake System and Optimal NDF Intake
Consumption of NDF by dairy cows is related to rumen fill and intake potential of a forage or ration. Dr. Dave Mertens developed the NDF Intake System to account for both forage quality and cow productivity, and it determines the maximum proportion of forage in the ration that does not limit intake or performance of the cow. Optimal NDF intake occurs at the point of maximum milk production and is ordinarily about 1.25 ± 0.10 % of body weight per day (mean ± standard deviation). It is important to understand that the optimal NDF intake is not the maximum NDF intake, but instead it is the NDF intake that maximizes milk production. Mertens (2009) provides a complete discussion of the NDF Intake System, its assumptions, and applications in ration formulation for dairy cows.
NDF Intake Targets and Time Budgets
The target of 1.25% of body weight applies to cows in mid-to late lactation. This target NDF intake varies with parity and stage of lactation. For example, first-lactation cows have a smaller ability to process NDF than mature cows. Table 1 was developed by Dave Mertens to provide more specific NDF intake targets for various stages of lactation.
Table 1. NDF intake targets throughout lactation and the dry period (Mertens, 2009).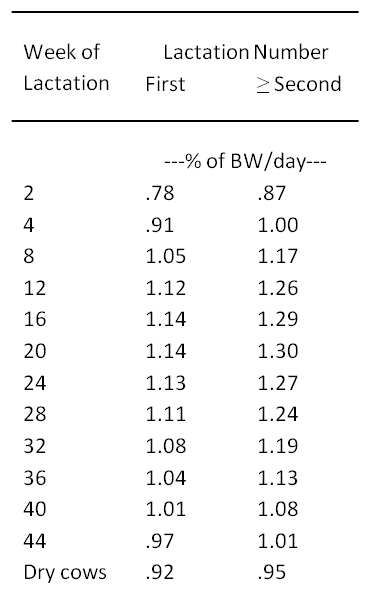 We also know that the NDF amount and digestibility will influence NDF intake for cows at a given stage of lactation. In Table 2, we have some data from a study conducted at Miner Institute in which we compared lower forage diets (49 to 53% of ration DM) to higher forage diets (64 to 67% of ration DM).
Within each forage level, we compared conventional (CS) to brown midrib (BMR) corn silage. All diets contained 13% haycrop silage (HCS). So, we had four diets that tested the effect of NDF amount and NDF digestibility on cow responses. The point in this article is the impact that forage-NDF characteristics had on eating and ruminating time. NDF intake varied predictably with dietary NDF content and digestibility and reached its highest amount when cows were fed a higher forage, high NDF digestibility diet. Note that there was an hour per day difference in eating time between cows fed the lower forage, high NDF digestibility diet versus the higher forage, lower NDF digestibility diet. There was a half-hour difference for cows fed the higher forage diet, but receiving either conventional or BMR corn silage.
The bottom line is that higher forage diets with slower fermenting forage-NDF take longer to process. There are important time budget challenges when cows are overstocked at the feed bunk, especially for younger cows that cannot process forage fiber as effectively as mature cows. Be sure that feed bunk and pen management provide sufficient time for the cows to eat and effectively ruminate the forage in the diet as NDF quality and amount varies.
Table 2. Forage NDF, NDF digestibility, NDF intake, and time spent eating.
Current Insight on NDF Intake Targets
Based on recent research conducted at Miner Institute and the University of Bologna, here are some potential targets and ranges for NDF intake that are applicable to highly productive dairy cows (55-60 lb/d dry matter intake, and 90-100 lb/d milk production). Note that all NDF values are expressed as amylase-modified, sodium sulfite-treated, and ash-corrected NDF (organic matter basis) abbreviated as aNDFom:
Maximum NDF intake is approximately 1.47% of body weight (range of 1.26 – 1.47)

Forage-NDF intake is approximately 1.05% of body weight

Maximum rumen NDF is 1.28% of body weight
Range in undigested NDF (uNDF at 240 h in vitro fermentation) is 0.30 – 0.48 % of body weight
Range in uNDF mass in rumen is 0.48 – 0.62% of body weight
Ratio of rumen NDF:intake NDF is approximately 1.60 regardless of diet

Equates to a rumen passage of 2.6%/h for uNDF240
Cows respond predictably to NDF and NDF digestibility, and we are learning that the ratio of undigested NDF in the TMR and the rumen appears to be constant over a fairly wide range of diets. We understand the cow's intake response to NDF, how it varies with NDF digestibility, and we must better appreciate the impact of NDF amount and digestibility (or indigestibility) on the length of time it takes for a cow to process her daily allotment of forage-NDF.
Reference for More Information on NDF Intake System:
Mertens, D. R. 2009. Maximizing forage use by dairy cows. Pages 303-319 in Western Can. Dairy Conf. Adv. in Dairy Technol. Volume 21.
AMAFERM APPLICATION
Amaferm is research proven to increase NDF digestibility across forage qualities and forage types.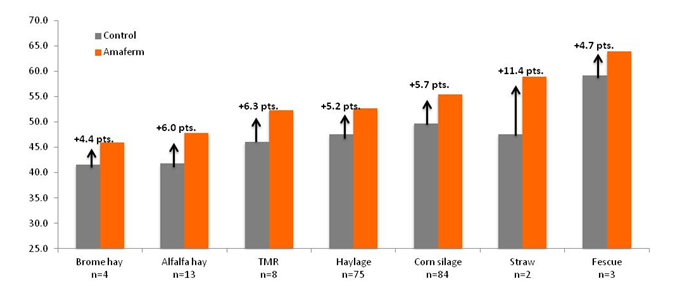 ON-FARM IMPACT
HEIFERS – In the graph developed by Dave Mertens, Dr. Grant advises that, "first-lactation cows have a smaller ability to process NDF than mature cows." On average, about 40% of the herd are first calf heifers. Amaferm's increase in NDF digestibility here will help heifers be able to increase intake providing more nutrients to support growth and milk production.
HIGH PRODUCING COWS – Digestibility converts to performance, Amaferm's average milk increase in early lactation is 7%. For a high producing cow giving 100 lbs, with milk at $.17/lb ($.37/kg), feeding 5 grams of Amaferm for the first 150 days of lactation, the calculated return of increased milk production is $1.09/day or $163.50 per cow over the fed period.
THE BOTTOM LINE – Getting more milk out of home grown forages will be as important as ever with tight 2015 profit margins. Getting more milk from forages with Amaferm lowers the cost per pound of milk produced, increases energy corrected milk efficiency and decreases off farm feed purchases. This adds more to the bottom line.