Rick Grant
William H. Miner Agricultural Research Institute
Fiber Group Continues its Work
An informal "Fiber Group" has been working on improving our ability to model rumen fiber turnover. The group consists of researchers from Cornell University, Miner Institute, University of Bologna, Fencrest, Mertens Innovation & Research, and various scientists from the industry. In particular, we have conducted feeding studies at Miner and Bologna to evaluate dietary uNDF and its effect on rumen fill, turnover, and dry matter intake. At Miner Institute the focus has been on corn and haycrop silage-based diets, while Bologna has focused on dry alfalfa hay-based diets due to the feed restrictions inherent in Parmigiano Reggiano cheese production. Cornell is planning studies to evaluate how uNDF from non-forage sources of fiber compares with forage uNDF.
What Does Our Research Tell Us So Far?
All of the details on diet ingredients, nutrient composition and cow responses can be found in the 2014 and 2012 Cornell Nutrition Conference proceedings (Cotanch et al., 2014; Grant and Cotanch, 2012). At Miner Institute, we evaluated diets:
With a wide range in corn silage source and amount
Ranging between 36 and 55% corn silage (DM basis)
Containing conventional versus brown midrib corn silage that varied by 10%-units in NDF digestibility, and some diets have contained up to 10% added chopped straw to maintain chewing activity as forage percentage was reduced from 52 to 39% (DM basis).
Overall, diets contained between 39 and 68% total forage.
In all studies, cows responded predictably to dietary NDF and NDF digestibility and were uniformly high-performing, averaging 61 lb/d dry matter intake and 99 lb/d solids-corrected milk production.
The table below summarizes the dietary composition, intake of uNDFom240 and the rumen amount of uNDFom240 (% of BW). As expected, the uNDF varied by diet and reflected the amount and digestibility of forage-NDF. Interestingly, across this range of diets, we observed that the ratio of intake uNDF to rumen uNDF was virtually the same at 0.632. This ratio equates to a rumen passage rate of approximately 2.63%/h for uNDF. We have measured similar ratios of intake:rumen uNDF across several studies with very different forage bases. Although we still need to fully understand the nutritional meaning of this apparently constant relationship for uNDF, it is interesting to note that this passage of uNDF matches well with the passage and mean retention times we have measured using marked forage-NDF particles.

Perspectives from these studies…
This is still very much an active area of research for our Fiber Group, but here are the conclusions we have drawn so far regarding uNDFom240 and ration modeling. Note that these points apply to high-producing cows fed diets based on corn and haycrop silage (and early work from Bologna also suggests similar results for cows fed dry, chopped alfalfa diets).
Maximum NDFom intake is ~1.47% of BW (range of 1.26-1.47)
Maximum rumen NDFom is ~19 lb or 1.28% of BW
Range in uNDFom240 intake is 0.30 – 0.48% of BW
Range in uNDFom240 mass in rumen is  0.48 – 0.62 % of BW
Ratio of rumen uNDFom240/intake uNDFom240 is approximately 1.60 regardless of diet…
Equates to rumen passage rate of 2.6%/h for uNDFom240
Agrees with recent measures of rumen mean retention time
From here, we plan to evaluate diets based on non-forage sources of NDF (Cornell group), look at cows at other stages of lactation and the dry period (including the transition cow), and determine what combination of uNDF, slow-pool, NDF, and fast-pool NDF provides the best estimate of rumen fill and dry matter intake. Stay tuned!
AMAFERM APPLICATION
 Dr. Howard Jensen, BioZyme Inc
This article is the second in a series of our DigestAbility newsletters addressing uNDF. Click here to view first article.  Using this approach may help us to further (and maybe better) identify a fast and slow pool for fiber digestion.  Anything that we can do to either shift NDF digestion from the slow to the fast pool or decrease the uNDFom240 amount should result in more energy and protein available to the
The mode of action of Amaferm stimulates the fiber-digesting bacteria AND the rumen fungi.  It has been proven to increase both the rate and extent of forage fiber digestion across different types and "qualities" of forage.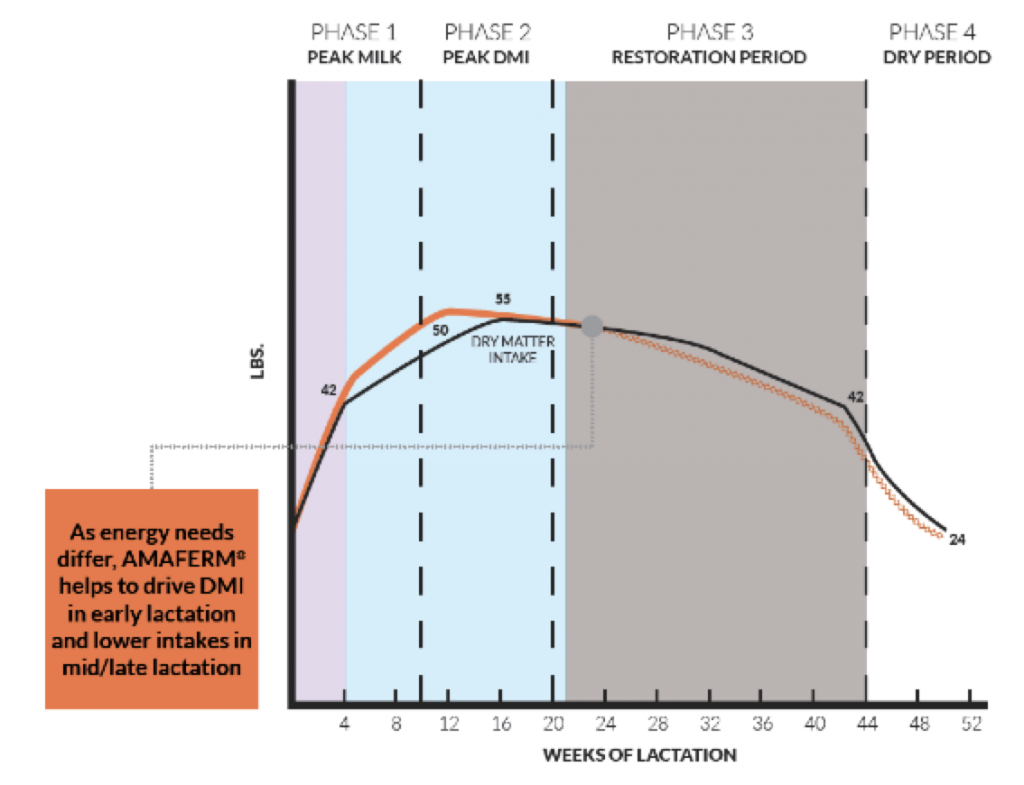 Increasing the rate and extent of forage fiber digestion will decrease the amount of uNDFom240 remaining thus allowing the early lactation cow to eat more as seen in the chart below.
References
Cotanch, K. W., R. J. Grant, M. E. Van Amburgh, A. Zontini, M. Fustini, A. Palmonari, and A. Formigoni. 2014. Applications of uNDF in ration modeling and formulation. Pages 114-131 in Proc. Cornell Nutr. Conf. Feed Manufac. October 21-23. Syracuse, NY.
Grant, R. J. and K. W. Cotanch. 2012. Higher forage diets: dynamics of passage, digestion, and cow productive responses. Pages 45-57 in Proc. Cornell Nutr. Conf Feed Manufac. October 16-18. Syracuse, NY.